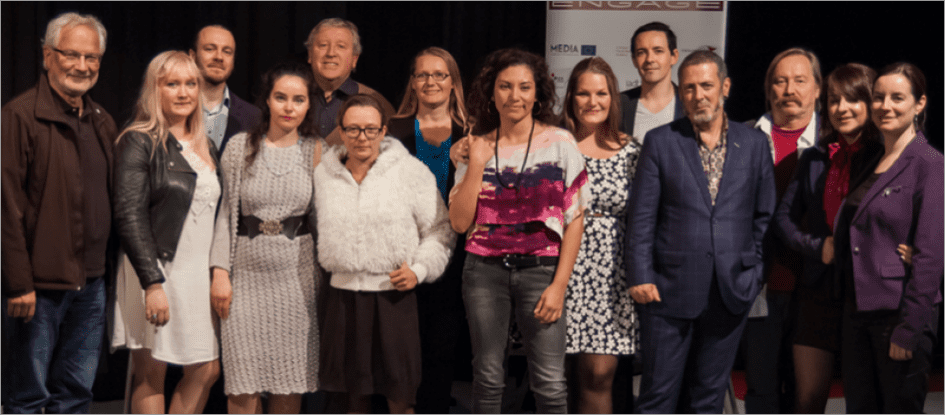 A worldwide ENGAGEment
Another 20 producers, screenwriters and writer/directors completed the final ENGAGE programme in 2014. And as we reflect on the past seven years of ENGAGE we are delighted that we have helped to steer over 170 participants towards the next stage of their filmmaking careers.
Twenty-four European nationalities in total have been represented over the life of the programme, along with our Chinese and Canadian participants from ENGAGE Plus. And with some of our recent participants potentially co-producing their projects in countries as far flung as Australia, Hong Kong and Chile (to name but a few), we can be proud that one of ENGAGE's key achievements has been to establish a network with real opportunities for valuable international collaboration.
To DOWNLOAD THE FINAL BROCHURE WITH EXTENSIVE INFORMATION PLEASE CLICK ON THE LINK AT THE BOTTOM OF THE PAGE
In this year's brochure, our final one, we look back at the successes, achievements and milestones of seven years of ENGAGE from 2008 to 2014 on pages 42-43; highlights from the 2014 workshops in each partner country are featured on pages 6-9; and we focus on the projects developed throughout the most recent nine month programme on pages 12-41. Taking feedback from mentors, and revising, re-writing and successfully pitching at the final session is no small feat and the work put in by the 2014 participants to develop and strengthen their projects throughout the year was as impressive as always.
To encapsulate a sense of the ENGAGE network of filmmakers, and to find out what participants have achieved, we feature a selection of highlights from alumni across the seven years of ENGAGE on pages 44-57.
We embarked on ENGAGE in 2007 with the hope that we might make it possible for students, graduates and staff of European film schools to connect more easily and, together, foster project and professional partnerships that would help them navigate the increasingly complex and internationalised world of film and television production. At the outset we never imagined the programme would last seven years or reach as many participants and countries as it has. There are many ways to measure success; from projects commissioned to awards or box office returns; but we always believed that the lasting impact of ENGAGE would be in the relationships it fostered. All the evidence to date suggests that the partnerships that sprang from a 'speed dating' session in Dublin, a pitching workshop in Edinburgh, over a coffee in Helsinki or on the boat to Tallinn will last long after the memory of ENGAGE has faded. The works that those relationships produce will be the lasting legacy of ENGAGE, as will the continuing collaborations between the partner film schools and their staff. ENGAGE is over but not done…