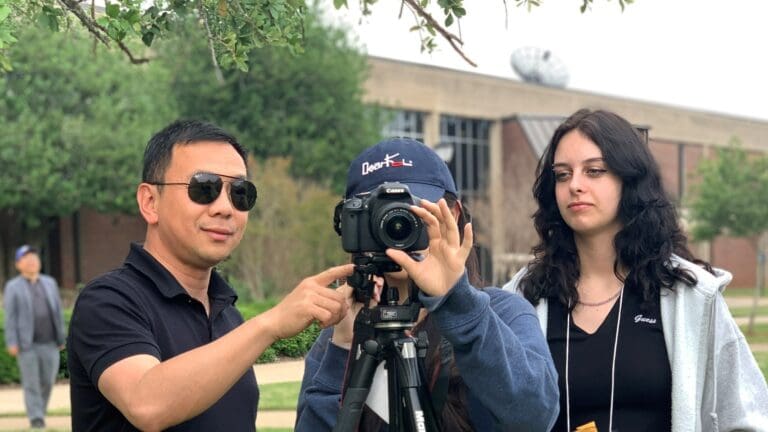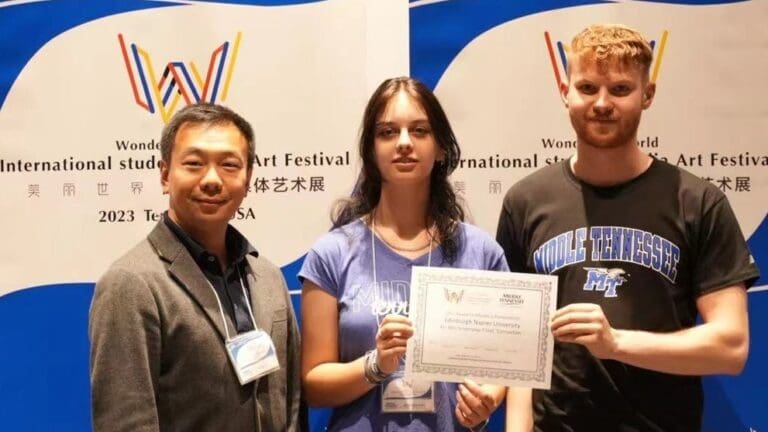 Edinburgh Napier University has made a remarkable impact at the 4th Wonderful World International Student Media Art Festival with four top awards.
Out of more than 1000 submissions, the film Connection (2023) garnered prestigious accolades, including the Best Drama Film Award and Best Screenplay Award. This exceptional Scottish drama film was created by four talented third-year BA in Film students from the School of Arts & Creative Industries: Alex McNeill, Jack Weir, Ben Anstruther, and Yathin Lee. These awards not only recognise their outstanding talent but also signal the rise of a new generation of filmmakers in Scotland.
Connection (2023) is a compelling short film that delves into the life of Brandon, a fraudulent individual who preys on elderly individuals by posing as a representative from British Telecoms. Set in Leith, Edinburgh, the story follows Brandon as he navigates his deceitful lifestyle, moving from one scam to another. However, everything changes when he establishes an unexpected connection with one of his elderly victims, Robert, whom he discovers shares his passion for the local football team, Hibs.
Supported by Edinburgh Napier BA in Film lecturer Dr. Qiao (Joe), Jack Weir (producer/co-writer of Connection), and Bethany Isles also participated in the Wonderful World 72-hour short film competition alongside students from other countries.
Collaborating with their international peers, they once again secured multiple awards, showcasing their prowess and creativity. Bethany Isles won the Best Young Filmmaker Award and Jack Weir won Best Performance Award. The students thoroughly enjoyed the festival, cherishing the invaluable opportunities for exchange with international students and professors.
Diane MacLean, Dean of Edinburgh Napier's School of Arts & Creative Industries (SACI), extended her warmest congratulations to the award-winning BA in Film students.
She said: "At SACI, our programmes are designed to be highly industry-relevant, and our BA in Film is ranked among the top three in the UK. We are committed to promoting our students' films at international festivals and fostering meaningful collaborations with other universities."

Subject Lead Paul Gray (SACI) also conveyed his congratulations to the team and expressed his anticipation for future participation in similar events.
The 4th Wonderful World International University Student Media Art Festival was held 4-10 June at Middle Tennessee State University in the United States.
Students and faculty members from representative universities around the world gathered to participate in a week-long film festival, including the highly anticipated 72-hour short film competition held offline. After careful evaluation by expert judges from five countries, a total of 15 awards were selected from nearly 1,000 submissions. The theme of this year's festival was 'Body and Society' and 'Environment and Animals', and international students showcased their creative expressions on these two themes through the awarded works. Works from Middle Tennessee State University, Edinburgh Napier University, Korea Kookmin University TED, Qingdao University of Science and Technology, Shanghai Film Academy, and other universities won multiple awards.
Edinburgh Napier University's success at the 4th Wonderful World International Student Media Art Festival highlights the institution's dedication to nurturing talent and providing students with opportunities to excel on the global stage. As the university continues to support and inspire its aspiring filmmakers, the future of Scottish cinema looks promising.
The 2024 Wonderful World Festival will be held in Korea Kookmin University TED in May 2024 and Edinburgh Napier University has been invited to join again.
We look forward to seeing what next year brings and well done again to all the winners from this year!