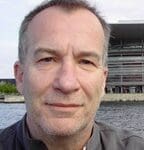 Has worked as producer, series producer, executive producer, development executive, screenwriter, script editor and story analyst in both public and private sectors in and beyond the UK (BBC, Scottish Screen, Metro-Goldwyn-Mayer, Majestic FilmVerleih), allowing him experience of a variety of screen narrative development practices across a range of film and television genres and perspective on the varied activities of project producers and screenwriters.
Nigel is currently on staff at Edinburgh Napier University/Screen Academy Scotland, where he lectures across the Kino Eyes European Movie Masters; the MA Screenwriting; the MA Film; the PGCert Screenwriting and BA Television programmes, and delivers the Academy's Continuing Professional Development screenwriting initiatives (Introduction to Screenwriting and Feature Film Courses).
As Producer, his credits include the internationally distributed sci-fi adventure sitcom series 'Intergalactic Kitchen' (BBC1) and multi-award-winning short films 'Cry For Bobo' (BBC1 Tartan Short) and 'The Return Of Peg Leg Pete' (Fox Searchlight). His experiences successfully distributing a number of award-winning short films led to him being commissioned by Scottish Screen to write 'You've Got It Made', a handy short film distribution guide still available via a variety of online 'how-to' websites.
More recently, he has worked for German company Majestic FilmVerleih with Oscar-winning writer/director Florian Gallenberger on an English language polish of feature thriller screenplay 'Colonia Dignidad', and is currently helping Estonian production house Allfilm to develop 'The Deep' a thriller series for international television markets.