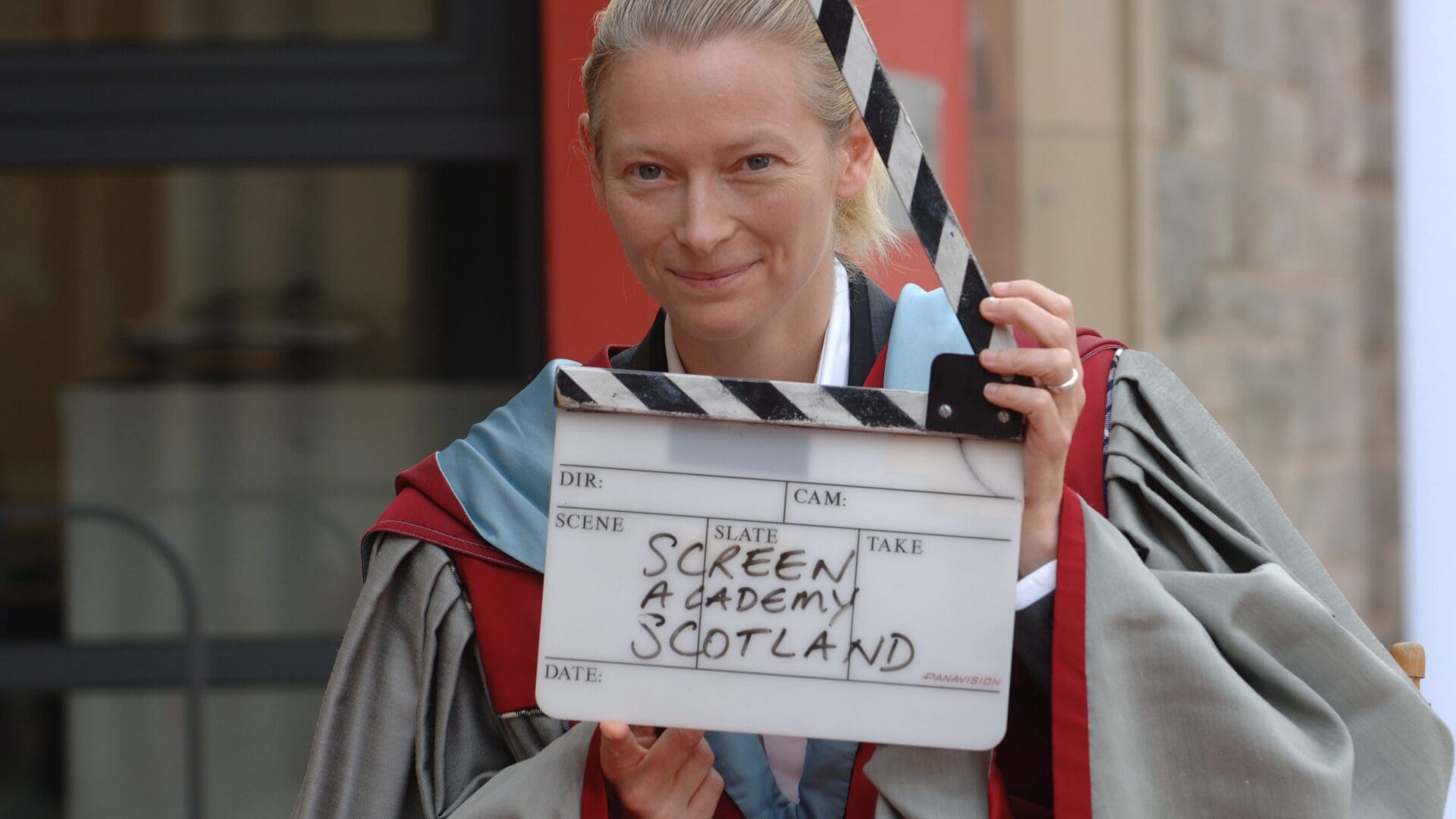 For over thirty years Edinburgh Napier University has been the Scottish centre of excellence for practice-based film and television higher education courses.
Graduates of Napier from the 1980s onwards, for example Lynne Ramsay, Neville Kidd, Andy Goddard and Benjamin Kracun, are now established as award-winning international film makers.
In 2005 Edinburgh Napier was the lead partner setting up Screen Academy Scotland (together with Edinburgh College of Art). Accredited as a Skillset Film Academy SAS was supported with additional capital and revenue funding from the BFI/National Lottery to establish high quality, well-resourced post-graduate courses such as MA Film, MA Scriptwriting and MFA Advanced Film Practice which provide a vital part of the talent development pipeline for the screen sector. The cameras, grip, and lighting production equipment and post-production editing, and sound facilities are industry standard. The courses are delivered by lecturers who all bring professional knowledge and experience. Additional course enhancement funding from Creative Skillset (2005-17) provided bursaries and ensured that students gained experience of current industry practice by supporting incoming professional masterclasses and mentoring.
Since 2005 student graduation films have had significant success in international competitions and film festivals and have enabled students to progress and take up key roles in film and television. Graduates from Napier's SAS courses include Simon Arthur (Writer/director), Kieran Hannigan, Chico Pereira (Pablo's Winter), Irune Gurtubai and Pearce Cullen (An Irish Goodbye), and BAFTA Scotland New Talent Winners Ben Sharrock (Limbo, Patata Tortilla), Robin Haig (Hula).
With the launch of a new BFI Future Film Skills Strategy in 2017 the bursary and course enhancement revenue funding came to an end when Screen Skills moved its focus for funding away from support for higher education. Nevertheless, the screen practice courses at Edinburgh Napier have continued to expand and deliver a high-quality experience at both undergraduate and postgraduate levels. The engagement across every stage of the pipeline of talent development for the screen sector has been consolidated. There are close links with film training organisations such as Screen Education Edinburgh with many young people who have come through the BFI Film Academy programme progressing onto undergraduate courses. International links have been further developed through the Kino Eyes Masters programme (funded by the Erasmus + scheme) in partnership with film schools in Lisbon, Tallin and Dublin. The Screen Nets programme with 'on-the-job' training placements with high-end drama productions across Scotland is coordinated from Edinburgh Napier. At every level the courses all cover up-to-date professional practice, giving students an informed understanding of current production protocols, which is key to our graduates' employability and their success in moving on to work in industry. Alumni are making their mark in both film and TV and their successes provide the supporting evidence that Edinburgh Napier is the leading Scottish centre for film practice education.