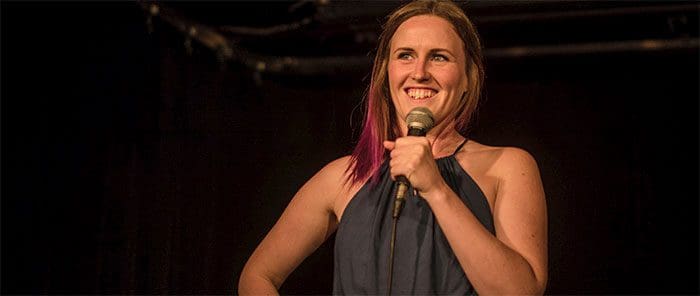 Heather came to Scotland from Canada in 2016 to do an MA in Screenwriting at Screen Academy Scotland. Heather is currently based in Vancouver, Canada.
I came to Screen Academy Scotland with an honours Bachelor degree in journalism, and an unofficial Bachelor's in stand-up comedy. It was time to pursue my lifelong interest in learning the beats of writing for film and television. I was thrilled with a variety of tutors and strategies in not only writing, but also with the prospect of furthering my career in film.
During my time at Screen Academy Scotland, I had three of my short scripts produced by fellow students, bringing my work to life and giving me a glimpse into the dynamic of production. I also continued to perform stand up and freelance radio pieces. I performed for It's Funny and It's True with Julia Sutherland on BBC Radio 4 and produced a 30 minute documentary for CBC's The Doc Project.
Screen Academy Scotland was the exact kind of small batch, hands on experience I needed from a program. A variety of tutors helped me discern my own voice and tactics needed for writing. Festival opportunities gave me a chance to flex my networking muscles and see how those in film collaborate in real time. I am so content and eager to workshop my final feature length film, a coming of age story that given the recent success of Lady Bird I feel is more relevant than ever.
This autumn, I took my internationally acclaimed comedy show Rape is Real and Everywhere: Rape Jokes by Survivors to select universities and come end of January will celebrate its two year anniversary at the Red Gate Theatre in Vancouver.
Now that I'm back in Vancouver ("Hollywood North") I look forward to entering the writing scene here, but I'm holding on to collaborative ties in my second home, Scotland!