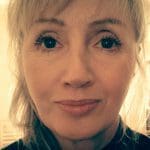 Is an experienced Line Producer/Production Manager in drama, documentary and television features who has worked in the production of film and television since 1984.
In 1985 she was invited to work with film director, screenwriter, playwright and poet, John McGrath at Freeway Films, where she undertook project management, development and commissioning for clients including BBC, Channel Four and PolyGram.  Although becoming freelance in 1992, Susie continued to work with John until his death in 2002.  Major screen credits, during this time included The Dressmaker, (Joan Plowright and Billie Whitelaw) Carrington, (Jonathan Pryce and Emma Thompson) Ma Vie En Rose, Aberdeen (Stellan Skaarsgard, Charlotte Rampling, Lena Headey, Ian Hart)
Susie has managed budgets ranging between £5k to £10 million covering high-end drama, factual, documentary and shorts genres, working for Channel 4, BBC and Working Title.  She also worked for many years for Scottish Screen assessing drama projects for funding. 
In 2000 Susie joined Ideal World Productions in Glasgow where she production managed the first eight series (80+ programmes) of the hugely successful property buying show Location, Location, Location, and its spin-off series, Relocation, Relocation. Latterly Head of Production, Susie also managed several documentary and entertainment strands during this time.
Throughout her career she has trained production staff through the successful Skillset NETS courses, and provides training courses on budgeting and scheduling for production companies, broadcasters and Screen Academy Scotland. 
Susie has fulfilled the role of Production Tutor on the MA Film programme at Screen Academy Scotland since 2013, having previously contributed to various post-graduate programmes from 2006.  She was also the deputy course director of the joint masters, KinoEyes between 2015-17, and continues as Production Tutor at ENU.  This is a partnership programme with Lusofona University, Lisbon, BFM in Tallinn, Estonia and Edinburgh Napier University.
Currently, she combines working as a Line Producer on drama and documentary with development services to broadcasters and independent producers while  maintaining a dedication to hands-on training and education in the film and tv industry.  She is also the production manager of Screen Academy Scotland at Edinburgh Napier University.